Presented by Live Theatre
Written by Gary McNair
Directed by Anna Ryder
Originally presented by Traverse Theatre
The locker room. A space for men. A space for harmless banter. It's all just a bit of fun really, nothing meant by it.
 
In the wake of the #metoo and #TimesUp movements - and with a world leader who 'banters' that he can "grab them by the pussy" - Locker Room Talk is an urgent response to everyday misogyny.
 
In 2017, Gary McNair interviewed hundreds of men across the UK and asked them to talk about women. He has distilled these conversations into a verbatim play in which the men's words are given to an all-female cast to perform.
Following the success of the original Traverse Theatre production, which has been seen at the Abbey Theatre in Dublin and at the Scottish Parliament, Locker Room Talk will be directed by Live Theatre Creative Associate Anna Ryder and presented as a Rehearsed Reading by an all-female cast.
A provocative piece of event theatre, this is a rehearsed reading of a script which demands to be heard. Each performance is followed by a FREE post show discussion with experts in equality and gender studies
Wednesday 17 April
Michael Richardson
Michael Richardson is a lecturer in human geography at Newcastle University. Michael's research is with men and masculinities in the North East. He has published on Theatre as Safe Space as a way of exploring masculine emotion. Previously, Michael worked for the Scottish Government to research threatening behaviour and online social media.
Ruth Raynor
Ruth Raynor is a research fellow in Urban Studies at the Global Urban Research Unit, Newcastle University. As well as making theatre and writing about the gendered politics of austerity, Ruth explores how theories of performance, and performativity are engaged in social research.
Thursday 18 April
Karen Ross
Karen Ross is Professor of Gender and Media at Newcastle University. For the past 20+ years, her research and teaching has mostly focused on the relationship between gender and news and women and political communication.  Karen is currently the Principal Investigator on an EU-funded project (2017-2019) which aims to Advance Gender Equality in Media Industries (AGEMI) and is also working on projects focused on challenging the marginalisation of older women in popular culture and hearing women's voices in India.
Clifton Evers
Clifton Evers is a scholar of sport and masculinities at Newcastle University. He has recently started a module/course on masculinities for undergraduates at Newcastle University. He also has experience of similar research in Australia: including writing a book for boys and appearing on Australian TV and radio programmes.
Director Anna Ryder Discusses Locker Room talk
Cast - pictured L-R Heather Carroll, Sarah Lewis Obuba, Rosie Stancliffe & Tracy Gillman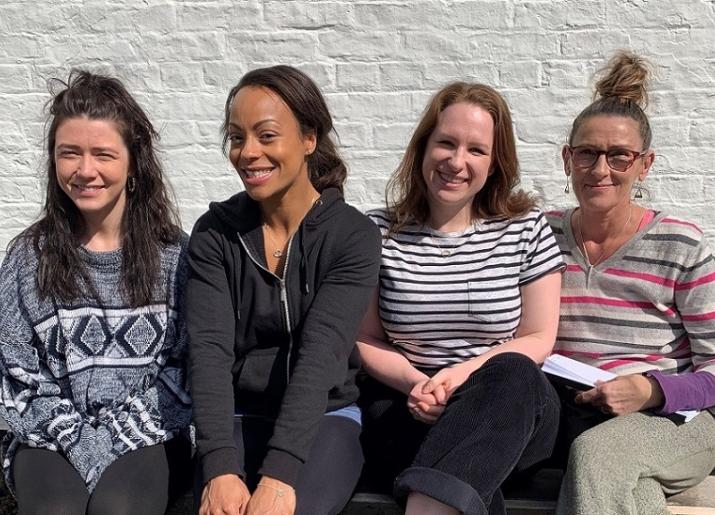 Heather Carroll
Heather trained at ALRA and was a member of Live Youth Theatre.
Theatre includes: The Terminal Velocity Of Snowflakes at Live Theatre, Carol in Shakers (Deaf Dog Theatre), The Asylum Monologues (AFHR), Lex inRaw (Troublehouse Theatre) for which Heather was nominated for a Manchester Theatre Award 'Best Performance', Susan in Remains, Troublehouse Theatre,
Claudette/Bella in Death at Dawn (Cloud Nine) in which Heather won a Journal Culture Award for
'Best Newcomer', Jenny in EqualPartners (Troublehouse Theatre), Playing Up North (Library
Theatre), Heather in Jonathan Likes This (Live Theatre) and The Crystal Maze,
Manchester.
TV includes: George Gently (BBC), Flash Fiction (Meerkat Films).
Sarah Lewis Obuba
Sarah was member of the Live Youth Theatre in Newcastle, and attended New College Durham and Sunderland University, where she gained a degree in drama. Theatre credits include Braids/Harsh Noise Wall (Northern Stage/Royal Court), Leo and The Ostrich, A Brand New World (Live Theatre).
TV credits include: Vera (ITV), The Dumping Ground, Casualty (BBC).
Rosie Stancliffe
Rosie trained at the Royal Central School of Speech and Drama.
She is a Live Youth Theatre alumna and Associate Artist of Alphabetti Theatre with credits including Christmas Cabaret 2017 & 2018, How Did We Get To This Point, Continuum, Meat Factory (The Rooms). Other theatre credits include Leaving, Curious Monkey (Northern Stage & UK Tour); Overdue, Coracle Productions; Make Do & Mend, Changing Relations (Regional Tour); Shakers, And A Nightingale Sang, less is MORE (Middlesbrough Theatre); Preconceived (Live Lab Elevator), 10 Minutes to.., rehearsed readings of Day of The Flymo & Jump, Live Theatre.
TV & Radio include Vera, ITV; Suffrage Dramas, Beware the Kids, BBC Radio 3.
Tracy Gillman
An established actor, writer, director and academic specialising in performance, spoken-word poetry and the archive. Tracy was recently awarded a Doctorate in Creative Writing from Newcastle University. She has worked closely with Live Theatre over a number of years including lead roles in; A Walk On Part, Me and Cilla, The Lovers, and Noir, and as a director and lead drama worker for Live Theatre's Children & Young People's Programme. She is currently developing a performance project in conjunction with Live Theatre which poetically examines the role of corporate and state collusion, surveillance and protest in a local campaign against the fossil fuel industry.
"shines a light on the uncertainties of the interviewees and their confusions and fears over what it means to be a man"

The Guardian