Ask Me Anything (Previews)
Created and Presented by The Paper Birds
Co-produced with Live Theatre
Cast: Georgie Coles, Rosie Doonan & Kylie Perry
Director: Jemma McDonnell
Music: Rosie Doonan
Designer: Rebecca Wood
Lighting Design: Joe Price
AV Design: The Media Workshop
Sound Design: Shane Durrant
Producers: Charlotte Kalantari - Gregory & Melanie Rashbrooke
We asked teenagers to write to us and ask us anything. Nothing is off limits. This show is our reply.
Welcome to the 90s, a place of house phones, pen pals and dial up internet. A time where problem pages in magazines taught teenage girls, like us, about the world.
From Jackie to Just Seventeen, teenagers have been turning to agony aunts and problem pages for centuries; but now, with the world at their fingertips and 3.5 billion daily searches on Google alone, is there anything young people don't know (or can't find out)?
Building on the intimate and immersive nature of Mobile (2016), The Paper Birds return to Live Theatre with a preview of their brand-new show.
Inspired by letters, written to us by young people from across the UK, Ask Me Anything explores what it means to be growing up today. What can we teach the next generation and what can they teach us?
With music, mischief and mayhem, we invite you to join us in our teenage bedrooms for a unique and immersive theatrical experience, like no other.
This is a show for teenagers, parents and everyone in between, who, like us, are still figuring it all out.
So, take off your shoes, pull up a beanbag and come on in.
Director Jemma McDonnell on Ask Me Anything
Ask Me Anything Teaser Trailer
Cast & Creative Team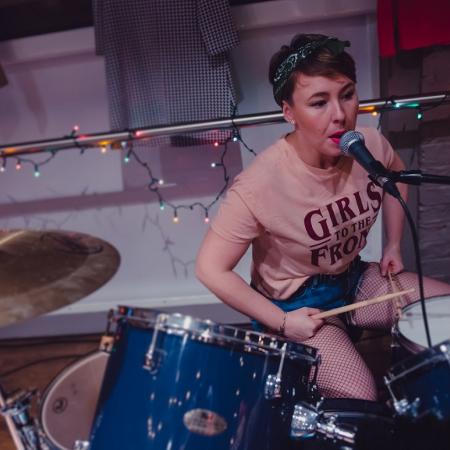 Georgie Coles, Performer
Georgie is a performer and Creative Learning Associate for The Paper Birds. For the company, she has performed in Mobile, and revivals of In a Thousand Pieces and Thirsty at schools and universities across the UK. As Creative Learning Associate she facilitates workshops and leads projects across the country providing accessible, engaging and unique theatre workshops for students, young people and theatre makers.
Rosie Doonan, Performer and Musician
Rosie has written and composed the music for Ask Me Anything.

She is a musician, singer and songwriter nominated for the Horizon Award at BBC Folk awards 2006. Rosie has released 3 studio albums and 8 singles into the national UK chart. She has toured with Peter Gabriel and his New Blood Orchestra, dueting on iconic 'Don't Give Up' in stadiums and arenas across the world.
Recently she has toured with Birdy (award-winning international female solo artist), appearing on Later with Jools Holland (BBC), and Channel 4's Sunday Brunch.

With Tim Kellett (of Simply Red and Olive), Rosie co-wrote the music for a new musical about female munitions workers in Sheffield during WW2 produced by Tara Finney Productions. Rosie's band CryBabyCry appeared on the BBC Introducing Stage at Reading & Leeds Festival 2015, and in February 2017, Rosie appeared on stage at The Brit Awards playing piano accompaniment for Chris Martin's (Coldplay) tribute to George Michael.

She has also recorded an EP Gimme That Swing under the name of her alter-ego, the boogie-woogie singer Cissie Redgwick. Gimme That Swing was released on YouTube in 2013 and has received over 5 million hits.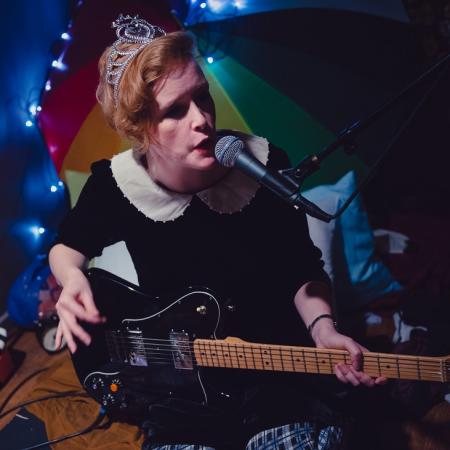 Kylie Perry, Performer
Kylie is a performer, devisor and facilitator. She co-founded The Paper Birds in 2003 and heads up the company's Creative Learning programme. As Co-Director of The Paper Birds, Kylie has devised and performed in all of the company's productions including Fringe First award-winning show In a Thousand Pieces and Mobile an immersive and intimate theatrical experience set within a caravan. Kylie has led creative learning projects across the UK and internationally bringing The Paper Birds unique way of working to thousands of students, young people and theatre makers. Kylie is also a guest lecturer at Northampton University and the University of Chichester as Associate Director for undergraduate devised theatre productions.
Jemma McDonnell, Director
Jemma is a director and co-founder of The Paper Birds. She has co-written and devised all of The Paper Birds' productions to date and has won 5 awards with the company including a Fringe First. For The Paper Birds, she has directed 13 productions and performed and toured in 8 of these shows. Jemma has run projects throughout the UK with venues including Roundhouse, Live Theatre, National Theatre and BAC. As a Guest Director she has run masterclasses at East 15, Rose Bruford, York University, Leeds University and The Royal Central School of Speech and Drama.
★★★★★ 'It would be a sin to miss this show'

Broadway Baby (on Blind)