An epic tale, based on real life stories of women who have faced and survived coercive controlling domestic abuse.
World Premiere
Produced by Open Clasp and Live Theatre in association with York Theatre Royal
Written by Catrina McHugh
Directed by Charlotte Bennet
A story with no ending; a chance meeting with one man changes the lives of two women forever. Now they both live trying to predict the unpredictable.
Continuing a long association between Live Theatre and Open Clasp, this sharp, moving and unflinching new play is from the company behind the hugely successful Key Change which premiered at Live Theatre before winning The Carol Tambor Best of Edinburgh Award in 2015 and featuring as a New York Times Critics' Pick in 2016.
Coinciding with the change in UK law in 2015 making coercive control in relationships a crime, Rattle Snake was originally commissioned by Durham University and Durham Constabulary and funded by Durham PCC and the AHRC and is used in the training of frontline police officers.
Rattle Snake will tour to York Theatre Royal from Tuesday 17 to Saturday 21 October and Soho Theatre from Monday 23 to Saturday 28 October.
Find out more about the set for Rattle Snake from designer Anna Reid
"Rattle Snake is a frightening and intense piece, a story of incredible strength but also of entrapment, shame and struggle. My challenge when coming to the design was how to create an intense space to focus the drama and to find a way of communicating the subtle violence lying just below the surface of the relationships."
Find out more about Anna's inspiration for the set for Rattle Snake.
Rattle Snake - Meet the Cast in rehearsals
Cast and Creative Team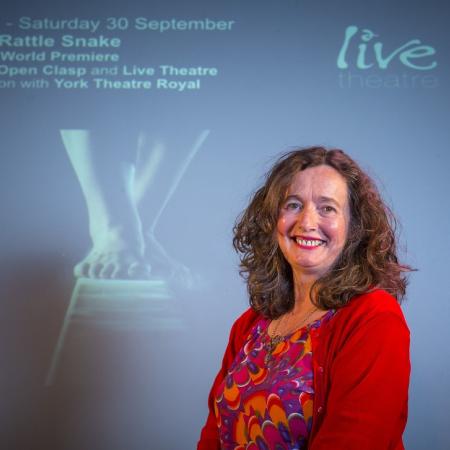 Writer - Catrina McHugh MBE
Driven by a passionate belief that great theatre can bring about social change, Catrina McHugh co-founded Open Clasp in 1998. Originally from Liverpool but now based in the West End of Newcastle, Catrina McHugh has unparalleled experience of working creatively with the most disenfranchised women to create risk-taking, exciting theatre. She was awarded an MBE for services to disadvantaged women through theatre in 2017.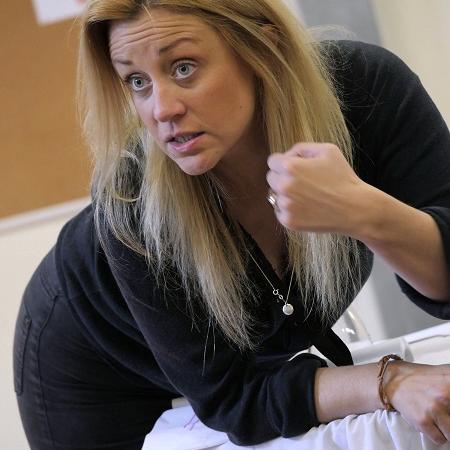 Actor - Christina Berriman Dawson
Christina's theatre credits include Beyond The End Of The Road (November Club-Tour/SAGE) Key Change (New York Theatre workshop, Off Broadway and UK National Tour), Sugar (Open Clasp at Live Theatre), Five Dead No Bodies (Customs House), Clothes Swap Theatre Party (Forward Theatre & Derby Playhouse), Dolly Mixtures (Customs House), Make do and Mend performed at European Parliament, From there to you, from here to me (Odd Man Out), Turning Pages (Live Theatre), Season Ticket R&D (Northern Stage), 'Prince' & 'Dandini' in Cinderella (Tyne Theatre), The Frights (Alphabetti Theatre & Theatre N16 London), Hull's Angel (Ensemble 52), Gaslight On Grey Street (Thea-tre Royal Studio), Pied Piper Project, Cautionary Tales From The Trenches and Beyond The End Of The Road (November Club), Flock (ZENDEH), 'Dick' in Dick Whittington and 'Aladdin' in Aladdin (Barnsley Lamproom Theatre), The Selkie (Sage Gateshead), The Bodies (Live Theatre), Nowt To Look At (BBC Radio Drama), George Gently (BBC) and feature films The Magdalene Sisters and Electricity.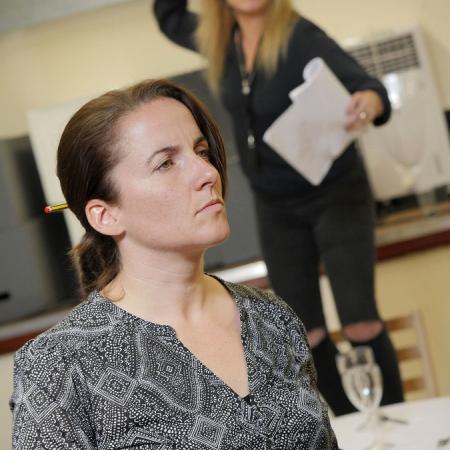 Actor - Eilidh Talman
Eilidh Talman is a Scottish-born actor now based in the North East of England. She works in both theatre and film, collaborating with local companies such as Eighties Doubt Films, Twenty Seven Productions, and Duffel Films. Theatre work includes performances at the Live Theatre, Northern Stage, Alphabetti Theatre, Edinburgh Fringe, and most recently, a season of Plays in the Park with Theatre Space North East, performing promenade adaptations of Henry IV Part 1 and Much Ado About Nothing (including a touring run at Alnwick Castle). Having been part of Rattle Snake since its conception as the core element of training delivered to Durham Constabulary, Eilidh is honoured to be bringing the stories of these real women to a wider audience. She hopes that lives, and attitudes, will be changed through this important and necessary play.